This contest is held under the auspices of the Holocaust Education Committee of the Jewish Federation of Greater Dayton. It is sponsored by Renate Frydman and family in memory of Grandfather Max May, pictured here. Framing of the art is sponsored by Allen Seymour in memory of his wife Carole.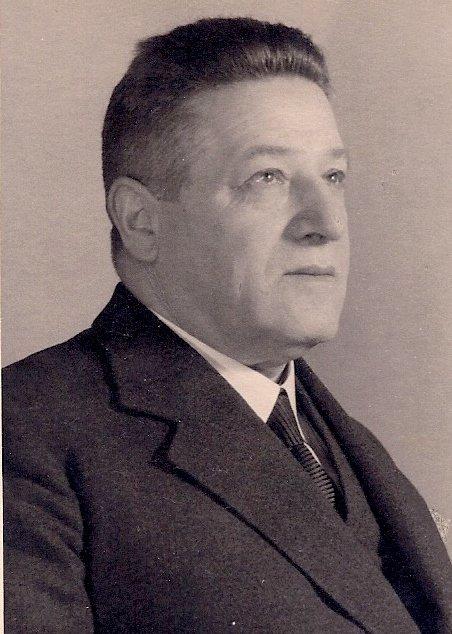 Need some ideas? Here is the complete exhibit catalog from 2002.

Theme for 2018:
"Heroes of the Holocaust"
Millions of Jews, Roma, Jehovah's Witnesses, homosexuals, political prisoners and others died in concentration camps or were murdered in their villages all across central and eastern Europe – perhaps as many as eleven million all told.  But the Holocaust is the story of each individual – the victims of course, but also the rescuers, the survivors, the resisters.   Your writing or art project should focus on one person or group of people who behaved in a heroic manner under conditions that we can scarcely imagine.  We are not publishing a list of heroes here, so as not to 'push' students in one direction or another; but we are happy to help with ideas – just e-mail us or send a private Facebook message.  
Suggestions for teachers: We are looking for work that focuses on the Holocaust as an inspiration for a world that is free of racism, bullying, disrespect and intolerance.   Our hope is for students to feel that they can impact the future in their everyday relations with their peers, and show their message in their art. Your students cannot change the past, but they can change the future. Please discourage the usual symbols and platitudes and encourage students to look forward to what kind of world we could have if we take the lessons of the Holocaust to heart.
Please limit the entries to your best pieces of art. The work must be display-ready, matted or framed if possible. See farther below for more detailed instructions. Entries become the property of the Dayton Holocaust Resource Center, although they may be returned when the art show is over. Please note the change in address for mailing and dropping off the art and writing work.
PLEASE NOTE that the deadline is Friday, March 16. Entries must be mailed and postmarked by that date, or (better) dropped off at:
Beth Jacob Synagogue
7020 North Main Street, Dayton (just north of Shiloh Springs Road, east side of Main)
phone 937-274-2149
Call first to make sure someone will be there when you come.
Winners will be notified soon after the deadline, and will be announced at the annual Yom haShoah commemoration at Beth Jacob on Sunday, April 8.
click here for the contest entry form
If you have trouble downloading the form, contact webmaster @ daytonholocaust.org
DIVISIONS: Division I is for grades 5-8. Division II is for grades 9-12. Students at any greater Dayton area school, public, parochial or private, are eligible. Entries must be submitted through a teacher, except in the case of home-schooled students. No more than two entries per student, please.
AWARDS: Monetary awards will be given for First, Second, Third Place and possibly Honorable Mention or Best of Show.
FORMAT:
Media that may be used: Drawing, Painting, Photography (if using computer imagery, it must be created as part of your own design), Printmaking, Three-dimensional Sculpture (mixed media assemblages, wood carvings, etc). Particular care must be taken with sharp edges, glass, and other delicate material. The glue must hold up when displayed and traveling to various locations.
All entries must be of manageable size and suitable for public display.
The Holocaust Education Committee reserves the right to exhibit any of the art entered in this contest, including photos of entries on this website or elsewhere. The art remains the property of the Holocaust Education Committee.
Each entry must have TWO entry forms: one attached to the artwork itself (on the back or bottom) and another copy to be included in an envelope mailed to the Resource Center by the teacher. This envelope may include forms for all the entries from a school or class. This makes it easier to identify and keep track of all entries. You may use photocopies or originals of the form in the print version of the Holocaust Education Newsletter, or download this online form.
mailing address:
Dayton Holocaust Resource Center
305 Sugar Camp Circle
Dayton, OH 45409
questions? e-mail the director at rene @ daytonholocaust.org