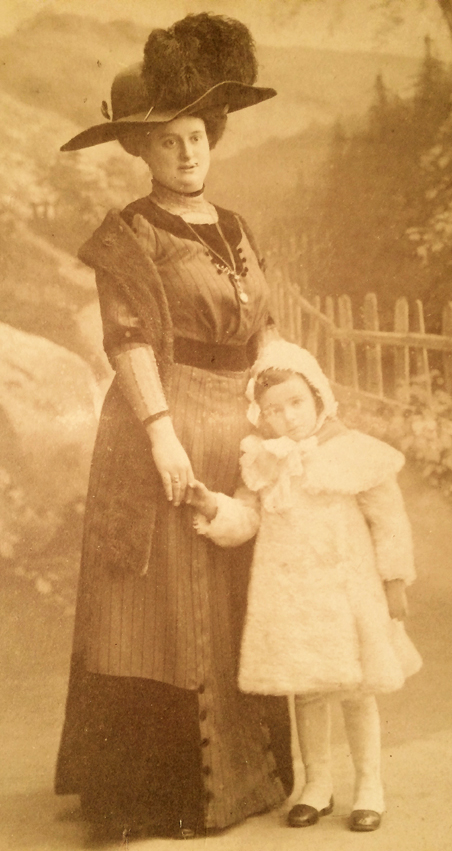 The Lydia May Memorial Holocaust Writing Contest is named for the grandmother of DHRC Director Renate Frydman.  Lydia is shown here with her daughter Carmen, Renate's mother, who passed away in 2014 age 107.
Theme for 2020:
Each winter the Dayton Holocaust Resource Center sponsors two contests for students in grades 5 through 12. Click on the links below for complete details about the contests, including this year's themes and deadlines. Contact rene @ daytonholocaust.org with any further questions.
The theme for this year's Lydia May Memorial Holocaust Writing Contest and Max May Memorial Holocaust Art Contest is:
 Liberation: Life After the Holocaust
In 2020 we commemorate the 75th anniversary of the end of World War II and the liberation of the concentration camps in Europe.  Millions died, but many thousands also survived the camps and went on to live productive and sometimes inspiring lives.  Choose a survivor or camp liberator who has made outstanding contributions to the arts, the sciences, education, or any other significant gift to humanity.
Many inspiring stories can be found at the Jewish Virtual Library, The Jewish Foundation for the Righteous, the website of the US Holocaust Memorial Museum, Remember.org, Israel's Yad vaShem, and other sites.  And we are happy to make suggestions.
Entries must be submitted by Friday, April 3, 2020.  Click on the links below for full information. 
Because of the large volume of entries we receive each year – both art and writing – please try to send us only your students' best work.
Important: You may either e-mail entries or send them by regular mail. If mailing hard copy, you need to include a cover sheet with the student's name and grade, teacher's name, and school; the entry itself should not include any of this information, in order to ensure anonymity in judging.  Please send three copies.  Entries coming directly from students will not be accepted – they need to come through a teacher, except in the case of home-schooled students.
Send e-mails to: JPhares@jfgd.net
Mail entries to:
Dayton Holocaust Resource Center
305 Sugar Camp Circle
Dayton, OH 45409
Your entry may be fiction, nonfiction, prose, drama or poetry.
DIVISIONS: Division I is for grades 5, 6, 7, and 8. Division II is for grades 9-12. Students at any greater Dayton area school, public, parochial or private, as well as home-schooled, are eligible.
AWARDS: Monetary awards will be given for First, Second, Third Place and Honorable Mention.
GUIDELINES:
Entries must represent the independent and unassisted work of the student under whose name they are submitted. Proofreading for corrections by a parent or teacher is acceptable, but content must not come from anyone but the author.
Entries will be judged for originality, content, and understanding of the subject.
Entries become the property of the Dayton Holocaust Resource Center, which reserves the right to publish them in part or in their entirety.
PLEASE NOTE that the deadline is Friday, April 10, 2020. Winners will be notified soon after that date, and will be announced at the annual Yom haShoah commemoration on April 28 at Beth Abraham Synagogue.
questions? e-mail rene @ daytonholocaust.org