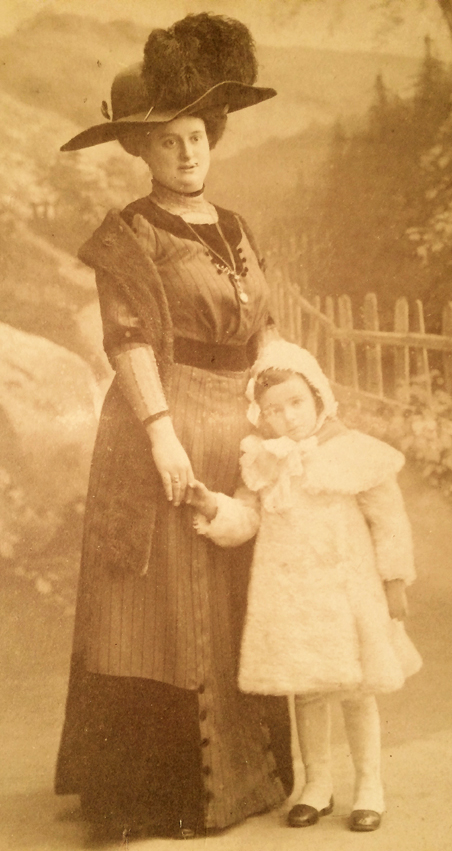 The Lydia May Memorial Holocaust Writing Contest is named for the grandmother of DHRC Director Renate Frydman.  Lydia is shown here with her daughter Carmen, Renate's mother, who passed away in 2014 age 107.
Theme for 2016:
"The World Watched in Silence"

In your writing, reflect on how studying the Holocaust can help us become better citizens of today's world.
While millions of Jews, Roma, Jehovah's Witnesses, homosexuals, political prisoners and others died in concentration camps, the world outside the Third Reich said little, and did less, to defend the victims.  A few heroic individuals acted, but most governments and organizations did not.  Your writing or art project should consider questions like, Why was so little done to help the victims? or how did the victims, and their persecutors, react to the world's indifference to the Holocaust? What lessons can we today learn from this apathy?  Can we still be silent when we see bullying and persecution?
Suggestions for teachers: We are looking for work that focuses on the Holocaust as an inspiration for a world that is free of racism, bullying, disrespect and intolerance.  Our hope is for students to feel that they can impact the future in their everyday relations with their peers, and express this message in their writing. Your students cannot change the past, but they can change the future. Please discourage the usual symbols and platitudes and encourage students to look forward to what kind of world we could have if we take the lessons of the Holocaust to heart.
Because of the large volume of entries we receive each year – both art and writing – please try to send us only your students' best work.
Important: You may either e-mail entries or send them by regular mail. If mailing hard copy, you need to include a cover sheet with the student's name and grade, teacher's name, and school; the entry itself should not include any of this information, in order to ensure anonymity in judging.  Please send three copies.  Entries coming directly from students will not be accepted – they need to come through a teacher, except in the case of home-schooled students.
Send e-mails to: JPhares@jfgd.net
Mail entries to:
Dayton Holocaust Resource Center
305 Sugar Camp Circle
Dayton, OH 45409
Your entry may be fiction, nonfiction, prose, drama or poetry.
DIVISIONS: Division I is for grades 5, 6, 7, and 8. Division II is for grades 9-12. Students at any greater Dayton area school, public, parochial or private, as well as home-schooled, are eligible.
AWARDS: Monetary awards will be given for First, Second, Third Place and Honorable Mention.
GUIDELINES:
Entries must represent the independent and unassisted work of the student under whose name they are submitted. Proofreading for corrections by a parent or teacher is acceptable, but content must not come from anyone but the author.
Entries will be judged for originality, content, and understanding of the subject.
Entries become the property of the Dayton Holocaust Resource Center, which reserves the right to publish them in part or in their entirety.
PLEASE NOTE that the deadline is Friday, April 7, 2017. Winners will be notified soon after that date, and will be announced at the annual Yom haShoah commemoration on May 1 at Temple Israel.
questions? e-mail rene @ daytonholocaust.org