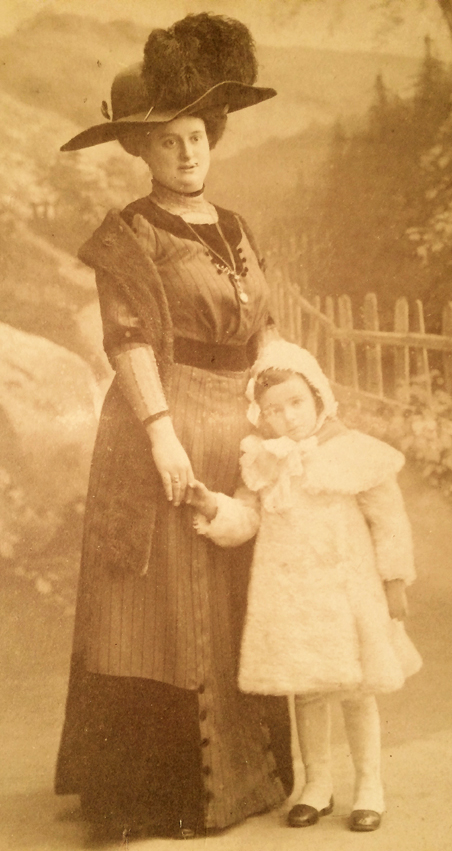 The Lydia May Memorial Holocaust Writing Contest is named for the grandmother of DHRC Director Renate Frydman.  Lydia is shown here with her daughter Carmen, Renate's mother, who passed away in 2014 age 107.
Each winter the Dayton Holocaust Resource Center sponsors two contests for students in grades 5 through 12. Click on the links below for complete details about the contests, including this year's themes and deadlines. Contact dhrcdirector @ gmail.com with further questions.
The theme for this year's Lydia May Memorial Holocaust Writing Contest and Max May Memorial Holocaust Art Contest is:
Reflections on the Holocaust:
How can Holocaust Study help us reduce Prejudice, Bullying and Hatred? 
In these difficult times we see hatred, bigotry and bullying as major threats to our peace and our democracy.  At the same time we see the rise of grassroots movements opposed to this frightening trend.  Our schools are not immune – young people as well as adults must deal with prejudice and racism.  The study of the Nazi Holocaust can give us insight into the roots of bigotry as well as hopeful ideas on how to deal with it, as we strive to fulfill the goal of "tikkun olam" – the Hebrew ideal of "healing the world."
We understand that the unprecedented challenges of this school year may make it difficult for students, teachers and parents to participate in the contests.  We encourage entries from students being schooled at home as well in traditional classrooms. 
Entries must be submitted by Friday, March 19, 2021.  Click on the links below for full information.
Entries must be submitted by Friday, March 19, 2021.  Click on the links below for full information. 
Because of the large volume of entries we receive each year – both art and writing – please try to send us only your students' best work.
Important: You may either e-mail entries or send them by regular mail. If mailing hard copy, you need to include a cover sheet with the student's name and grade, teacher's name, and school; the entry itself should not include any of this information, in order to ensure anonymity in judging.  Please send three copies.  Entries coming directly from students will not be accepted – they need to come through a teacher, except in the case of home-schooled students.
Send e-mails to: JPhares@jfgd.net
Mail entries to:
Dayton Holocaust Resource Center
305 Sugar Camp Circle
Dayton, OH 45409
Your entry may be fiction, nonfiction, prose, drama or poetry.
DIVISIONS: Division I is for grades 5, 6, 7, and 8. Division II is for grades 9-12. Students at any greater Dayton area school, public, parochial or private, as well as home-schooled, are eligible.
AWARDS: Monetary awards will be given for First, Second, Third Place and Honorable Mention.
GUIDELINES:
Entries must represent the independent and unassisted work of the student under whose name they are submitted. Proofreading for corrections by a parent or teacher is acceptable, but content must not come from anyone but the author.
Entries will be judged for originality, content, and understanding of the subject.
Entries become the property of the Dayton Holocaust Resource Center, which reserves the right to publish them in part or in their entirety.
PLEASE NOTE that the deadline is Friday, March 19, 2021. Winners will be notified soon after that date, and will be announced at the annual Yom haShoah commemoration currently scheduled for April 11 – more on this later. .