Preventing Bullying through Holocaust Education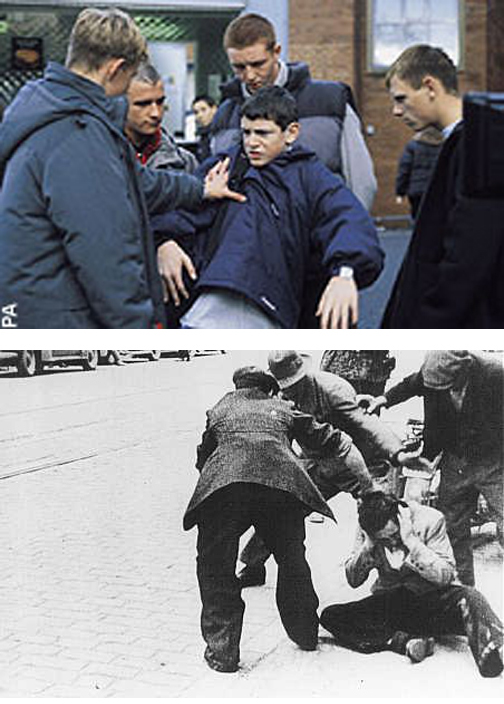 A number of social agencies – not just Holocaust organizations – are beginning to teach the Holocaust as a means of demonstrating what can happen if bullying is allowed to escalate into stereotyping, prejudice, racism, and worse. The DHRC is considering launching a Dayton-area anti-bullying initiative. Ideas from teachers are especially welcome. Cyber-bullying is a new and especially worrying phenomenon – through social media like Facebook, kids can now bully other kids anonymously, and even recruit their friends to help. As you probably know, suicides have already resulted. Here are a few links to similar projects around the country and resources on bullying, hate speech and other forms of intimidation faced by students today.

Resources for Teachers
The Holocaust as a Bullying Teaching Aid
Facing History on bullying and ostracism (from a radical historians' organization, Facing History and Ourselves)
anti-bullying programs from the Holocaust Memorial and Education Center of Florida
article on using children's literature to address bullying, from the Anti-Defamation League
a Holocaust/bullying lesson plan, aimed at first-graders
"What does bullying have to do with the Holocaust?" article from Jewish Community Relations Council of Greater Boston
Ideas from causes.com
General Bullying Resources
lots of resources from the Ohio Department of Education
still more from the Florida Department of Education
Kidpower website on how to combat bullying
Hate Speech, Hate Crimes and Hate Symbols
Southern Poverty Law Center's "Hate Map"
"Bookmarks," a manual for combating hate speech online through human rights education (published online by the Council of Europe) – slow download
a viewpoint from the Canadian press
Understanding Disabilities
Department of Education website on Discrimination against People with Disabilities
National Bullying Prevention Center's website on students with disabilities
Stomp Out Bullying website on disabled students
The "Fake News" Epidemic
 

Free Speech vs. Hate Speech
article from Psychology Today
Refugees and Immigrants
Racism
Cyber-bullying and Cyber-hate
Genocide
Islamophobia
Homophobia and Transgender Issues
LGBT Resources from Case Western Reserve U.
LGBT Rights (from Human Rights Watch)
Local organization, GLSEN
Drug Abuse and Bullying (from addictionresource.com)
Sexism
Gender and Education website
Institute for Humane Education on sexism
Resources from Rethinking Schools
Homelessness
Lesson plan for teaching about Homelessness
"Fat-Shaming"
Article from obesityaction.org
Lessons from America's Past
Anti-Semitism
General
Is the "safe space" a good idea?